Caring Moments
the carer's essential everyday handbook on dementia and Alzheimer's
Compiled by Elizabeth Bezant & Pamela Eaves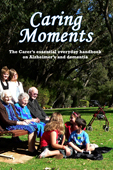 Caring Moments is a book which will satisfy many of your questions on dementia and Alzheimer's, while at the same time help you discover how other families have learned to cope with the ongoing demands.

Written by people who have cared for their family and friends, this book is an extensive collection of information, hints, and true-life stories and poems. It shares invaluable information and insights into the disease, but perhaps more importantly it also contains irony, humour, love and practical advice. All of which are keys to providing good caregiving for a loved one, while also maintaining a positive and healthy attitude, and a sense of worth.

Designed to be a companion through all stages of dementia, Caring Moments' easy-to-read style is as suitable for teenagers as it is for adults. While still offering the confidence of knowing that the entire contents comes with the complete endorsement of Alzheimer's Australia.

Part proceeds from the sale of all Caring Moments will be donated to Alzheimer's Australia to help them in their continuous task of raising awareness and supporting those living with this disease.

---
What the people are saying
'Caring Moments will be of enormous value to the thousands of families who care for people with dementia.'

Frank Schaper
Chief Executive Officer Alzheimer's Australia WA


'As there currently is no cure for Alzheimer's disease or other forms of dementia, it is essential that we make every effort to ensure that people with dementia have the best possible quality of life. Caring Moments is a resource that can support the caring journey.'

The Hon. John Watkins
Chief Executive Officer Alzheimer's Australia NSW


'Dementia is a social as well as chronic health condition. Written by carers for carers this book offers valuable insights into the disease and the everyday help that carers need.'

Glenn Rees
CEO Alzheimer's Australia


'Clear, concise, invaluable.'

Margaret Lobo
International President (2007 - 2009) Soroptimist International


'By combing personal accounts with practical suggestions, Caring Moments is a real-life how-to-guide that can support families, friends and carers.'

Nicky Hayward-Wright
Manager Knowledge Services Alzheimer's Australia NSW




---